Project Type
Flats & Apartments

Location
Ravet, Pune, Maharashtra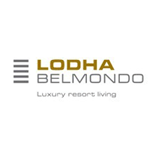 Strategically located at the entry point to Pune, is a bio-diversity hotspot on the banks of the perennial river Pavana. Here, a 5-star luxury resort style residential development themed around a 5-star luxury resort is being envisaged, bringing the best of both worlds - the active business, cultural and spiritual life that Pune is known for, and the serene privacy of a luxury resort.
Every element of this beautiful world is handcrafted by us with the finest partners in the world, keeping in mind the delectable lifestyle preferences of people like you, who seek no less than perfection. A golf course from the stable of legendary golfer Greg Norman, a club & spa managed by international hospitality experts Evason (Six Senses group), 1 km long riverside promenade with boating facilities and a host of world-class amenities ensure your experience is several notches above your last stay in a 5-star resort.
India's most premier real estate development welcomes you to Lodha Lodha Belmondo where luxury knows no bounds and life no limits.
Amenities / Features
If fitness is your indulgence, you'll be spoilt for choice. With a wide range of sporting facilities, the development offers the perfect platform to the budding sportsperson as well as the seasoned professional.
And for the social souls, a spectrum of recreational facilities ensures that you enjoy the camaraderie and warmth of spontaneous good times with family, friends and neighbours.
Sports amenities Recreational amenities.
Full-fledged cricket ground.
Tennis Courts.
Badminton Court.
Squash Courts.
Multipurpose Basketball Court.
Outdoor Children's play areas.
Jogging/ Walking Tracks.
1 km riverside promenade with viewing decks.
Jetty for boating facilities.
Helipad
Thatched roofed machan.
Spa-themed pavilions along the golf course.
Sheltered cabanas and sit-outs.
Organic Farm.
Outdoor Party Space.
Key Conveniences
Internationally-affiliated pre-primary school.
Well-stocked department store.
Well-equipped business centre.
Medical Clinic.
ATM
Temple
Location Advantages of Lodha Belmondo
The location of Lodha Codename : Lodha Belmondo makes it easy to zip down to multiple locales of choice & get back equally easily to the gentle green of the golf course, the breathtaking Pavana river gracing its borders, and the misty hills in the distance.
Address : Lodha Belmondo, Opposite Subrata Roy Sahara Stadium, Off. Mumbai Pune Highway.
10 minute drive away from Pimpri-Chinchwad, Talegaon and Hinjewadi
Interiors of Lodha Belmondo
If you thought living by a riverside golf course with a world-class club & spa was sheer luxury, think again. Welcome to the luxury within. Each thoughtfully designed and beautifully appointed residence combines impeccable style, fine materials and finishes, and cutting-edge technology, to provide you an unparalleled, world-class living experience.
Golf villa , Sky duplexes, 4 BHK, 3 BHK L : Italian marble flooring in living, dining, master bed, master bathroom & common areas | Fully AC homes | Fitted modular kitchen with gas detector| Duravit & Grohe bath fittings or equivalent | 4-fixture bathroom with designer tiles & marble flooring | Motion sensors for automated lightening in bathrooms | Video door phone | CCTV monitoring of common areas
Studio, 2 BHK, 2 BHK L, 3 BHK : Imported MarbItal flooring in living, dining & common areas | Laminated wooden flooring for all bedrooms | Fully AC homes | Kohler & Jaquar bath fittings or equivalent | Designer tiles in toilets | Motion sensors for automated lightening in bathrooms | Video door phone | CCTV monitoring of common areas.
Club/Spa of Lodha Belmondo
Walk into the club and spa managed by the world's finest hospitality group: Evason (Six Senses group), and you are transported to an oasis of tranquillity. Extending over 50,000 sq. ft., it is divided into 4 distinct zones that offer the perfect balance of active fitness, soothing therapies and creative fulfilment, to help you attain a state of sublime well-being.
Spa Zone Active Zone.
Raw Food Restaurant.
Bamboo Massage.
Jasmine Rice Body Toning.
Salt Room.
Steam, Sauna & Flotation Room.
Reflexology Path.
Herb Garden.
Tsang, Ayurvedic treatments.
Shiatsu, Acupuncture.
Yoga, Meditation, Tai Chi and Pilates.
Visiting osteopaths, energy healers.
Reiki masters, facialists, etc.
State-of-the-art Gym.
Natural juice bar by the pool.
Swimming Pools.
Studios for tai chi, yoga.
Spinning, Kinesis and Aerobics.
Informal relaxation area with games.
Spa Party Venue.
Kids' Zone Art & Cultural Zone
Indoor Games-foosball, air-hockey.
Snooker, Pool, Carrom, Chess.
Play Room.
Lego Room.
Kids' Gym.
Kids' Movie Theatre.
Kids' Cafe.
Kids' Spa.
Education Centre.
Sleep Room.
Library.
Mini-Theatre.
Art Classes.
Hobby Room.
Open-air amphitheatre for performances.
Golf of Lodha Belmondo
This pristine 100 acre riverside estate is woven around a 45-acre, 9-hole masterpiece designed by the legendary golfer Greg Norman, renowned as 'the great white shark'. An ace golfer, Norman held the ranking of #1 golfer in the world for a record 331 weeks in his career in the 1980s and 1990s.
The design of the course adheres to a least disturbance approach, focusing on every opportunity to incorporate unique existing site features into the layout of the golf course.
With gradations from easy to moderate to challenging, it offers a challenge to the new golf enthusiast as well as the pro. And to ready yourself for the game, you have at your disposal the full armoury: a well-equipped pro-shop, a golf simulator, and professional golf coaches.
Golf Practice Area
Chipping Green
Putting Green
Driving Range
Golf Rest Area
View Lodha Belmondo Project Gallery
Floor Plan of Lodha Belmondo
Unit Plan of Lodha Belmondo
Master Plan of Lodha Belmondo