Codename Golden Tomorrow Dombivli East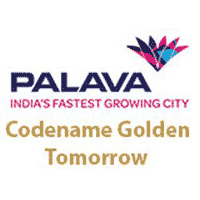 GOLDEN TOMORROW – An extremely limited opportunity at Pre-Launch prices.

3 years wait end now no more launches here we come with a proper Pre-Launch" fresh land parcel with the name "Golden Tomorrow" An extremely limited opportunity at Pre-Launch prices.

Golden Tomorrow IPO-style allotment will be open for a very short window and purely on First-Come-First-Serve basis. Only a select few will get their hands on this deal. We expect the IPO to over-subscribe by 4-5 times as the demand for these limited smart homes will be very high.

Key common residential amenities
MarbItal flooring in living/dining area and passage
Bedroom with stylish imported wooden flooring and separate wardrobe areas
Kitchen with high-grade granite platform and premium vitrified tiling
Bathroom with premium fittings, European sanitary ware
Separate pooja area and store room in select residences
Project Type
Flats & Apartments

Location
Dombivli, Thane, Maharashtra
Location Advantages
Key highlights
You get the pride of owning a home in a smart city with a great lifestyle, safety, great environment for family
You get low upfront payment
You get affordable EMIs –
You can upgrade from 1 BHK to 2BHK / from 2BHK to 3 BHK

Palava Location Advantage
Less than an hour from South mumbai(via the Eastern Freeway)
40 minutes from Mumbai's main port, JNPT
Planned expansion of road leading to Vashi and Kalyan
Pivotal Location for upcoming regional transportation projects like the Virar-Alibaug multimodal corridor
Well coonected by Rail. Nearby station include Dombivali (Central Line), Vashi (Harbour Line), and Diva (Vasai-Panvel Line)
Up gradation of Diva station to prime junction in central suburban line Monorail station proposed within the city
Metro junction 8 km south of the city, for coonectivity to the new International airport and Panvel
Within 20 minutes of the upcoming international airport
Highest Returns on Investment
Palava has outperformed its neighbouring regions by over 2.5 times in the last 6 years
Investment options like stocks and commodities such as gold have been highly volatile. Palava has given consistent returns over the years and continues to do so (17% CAGR vs. 9% in gold and 6% in BSE in the last 7 years)
Your Benefit's with Pre-Launch
If you are a family with a young kid(s)
Affordable and secured investment to meet your child's future needs – whether for their use or starting capital for their business
Buy into a low risk and less volatility asset by buying into Mumbai's Real Estate
Better than buying 10 gms of gold (1 tola) every month
Why settle for a 1 BHK for your child when you can have a 2 BHK

If you are a Government employee
Secure your own home by utilising the pay hike and arrears
Put your otherwise defunct HRA to best use and save income tax
Own a home at a low down-payment

If you are an investor in Mumbai
Safe investment option alternate to gold / insurance / FD with low risk and volatility
Savings on tax benefits
EMI less than price of food + entertainment spends in a month (

NRI/OS Investors
Own a home in Mumbai at a low entry barrier in an otherwise expensive market
Best opportunity to diversify into an investment that is safe like gold and insurance with higher returns
Hedge against rise in real estate costs by buying in a pre-launch and earn great rental incomes as well

Location
Lodha The Rise is spread across the area of 4000 acres between Navi Mumbai & Dombivali. It offers excellent connectivity to all parts of Mumbai via road and the central line.
15 minutes from Navi Mumbai and DAKC.
30 minutes from Thane, Kalyan, Airoli & Vashi
8 km from Dombivali.
55 minutes from the proposed International airport.
Short walk from Nilje railway station on the Diva-Panvel line.
60 minutes from South Mumbai